When can I walk through the Lulworth Firing Ranges?
The Lulworth Ranges and Tyneham Village are military training ranges located on the South Dorset Coast, between Lulworth Cove and Kimmeridge Bay.  As it is officially part of the South West Coast Path, anyone wishing to complete the entire path, will have to plan their walk around the access to this particularly stunning stretch of coastline.

WALKING THROUGH THE LULWORTH FIRING RANGE AND TYNEHAM VILLAGE
What are the Lulworth Ranges?
The Lulworth Ranges are military firing ranges located between Wareham and Lulworth in Dorset.  They cover an area of more than 2,830 hectares, and are part of the Armoured Fighting Vehicles Gunnery School based at Lulworth Camp.  They lie within an Area of Outstanding Natural Beauty and affect access to the South West Coast Path between east of Lulworth Cove and just west of Kimmeridge.
Are they still used by the military?
Yes.  The ranges are used for static and mobile live firing by tanks and other armoured vehicles.
Is it safe to walk through the Lulworth Ranges?
The Lulworth Ranges are open to walkers and visitors most weekends and extended periods throughout the year, normally mirroring school holidays.  During these times, no firing takes place and gates and signs clearly indicate access is permitted.
How important is it I plan my walk through the Ranges?
It's essential if you want to say "I've walked the entire South West Coast Path".  We've known people to have walked as far as Weymouth before realising they need to plan for the Lulworth Ranges.  It means you're stuck in Lulworth longer than planned, or you walk the rest of the path, and come back at the end to walk this area.
Are the dates the Lulworth Ranges are open known in advance?
Yes.  The Ministry of Defence have provided the following dates for 2022 that the range will be open to walkers.
January – 1st-2nd, 8th-9th, 15th-16th, 22nd-23rd & 29th-30th
February – 5th-6th, 12th-13th & 26th-27th (closed weekend of 19th-20th)
March – 5th-6th, 19th-20th & 26th-27th (closed weekend of 12th-13th)
April – 2nd-3rd, 9th-24th & 30th
May – 1st, 7th-8th, 14th-15th, 21st-22nd & 28th-31st
June – 1st-5th, 11th-12th & 18th-19th (closed weekend of 25th-26th)
July – 2nd-3rd, 9th-10th, 16th-17th, 23rd-24th & 28th-31st
August – 1st-31st
September – 3rd-4th, 10th-1th & 17th-18th (closed weekend of 24th-25th)
October – 1st-2nd, 15th-16th, 22nd-23rd & 29th-30th (closed weekend of 8th-9th)
November – 12th-13th, 19th-20th & 26th-27th (closed weekend of 5th-6th)
December – 3rd-4th, 10th-11th & 17th-31st
What's Tyneham Village?
Tyneham is a ghost village with a population of zero!  It played an important part in WW2 when the village and 7,500 acres of surrounding land was requisitioned just before Christmas 1943 by the War Office (now the Ministry of Defence) for use as a firing range for training troops.  It was only meant to be temporary, but was made permanent in 1948.  When the Ranges are open, it's well worth a little detour to explore the village.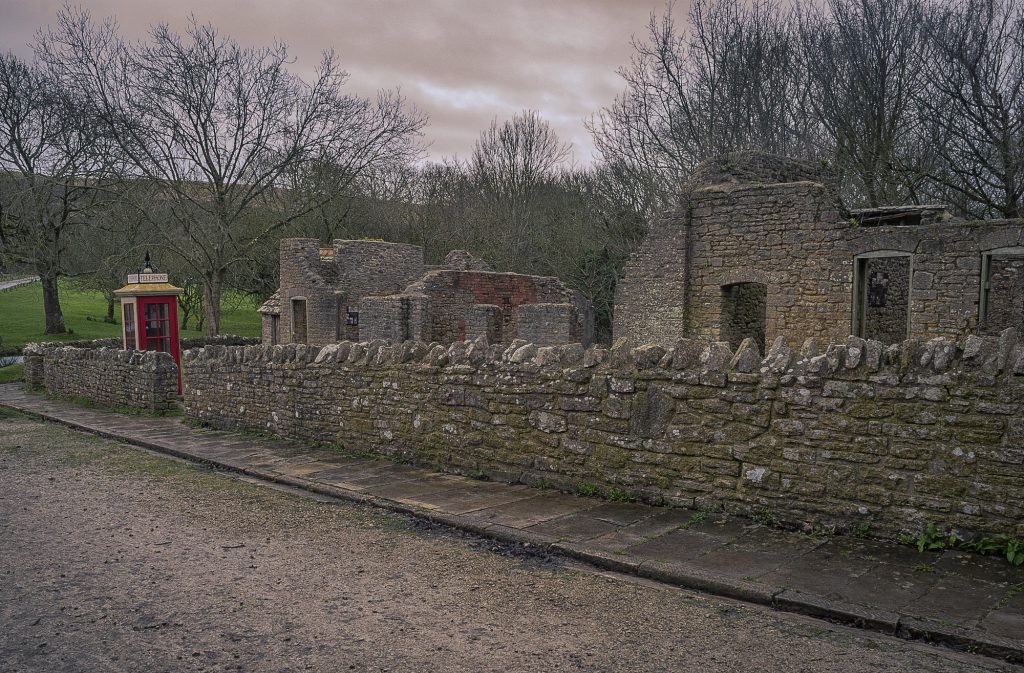 ALTERNATIVES TO WALKING THROUGH THE LULWORTH RANGES
Sometimes, it's just not possible to time your walking holiday with the opening days of Lulworth Ranges, so we've come up with 3 possible solutions for you to consider
Catch the bus to Corfe Castle and walk back down to the coast path
There's a regular bus from Lulworth Cove to Corfe Castle.  From here, you can make your way back down to the coast at Kimmeridge before walking on to either Worth Matravers or Swanage.  Bus information can be found at TravelineSW and a guide to this route can be found at the South West Coast Path Association.
Miss out on 7 miles of the coast path by taking a taxi to Kimmeridge
You will miss out on 7 miles of coast path, but it does give you the chance to explore.  Wander back to Durdle Door, or head inland to visit Lulworth Castle.  Alternatively, consider walking to Swanage.  A 20 mile day, suddenly becomes 13 miles once you've taken a taxi to Kimmeridge.
Walk 13 miles more than planned!
The only all walking option requires a 13 mile inland around the edge of the ranges back to the coast path at Kimmeridge.
STUCK FOR ACCOMMODATION IN LULWORTH COVE?
Due to the popularity of Lulworth Cove it's difficult to find accommodation for 1 night
Lulworth Cove is one of the more expensive places to stay when walking the South West Coast Path and over the past few years, many accommodations will no longer allow 1 night stays on weekends unless filling a gap around a larger booking.  If you are struggling to find accommodation, then 2 nights in Weymouth, Corfe or Swanage and transfers using taxis or buses is often more cost effective.
IMPORTANT – On very rare occasions the Ministry of Defence will make changes to the dates published.  Please see the UK Government website for the most up to date changes.  Luggage Transfers takes no responsibility for changes to the dates listed above for Lulworth Ranges and Tyneham Village opening dates.