Make a Booking
Before completing the form, please take a moment to read the 4 steps below.
Important – Online bookings for next day transfers are not possible after 6.30pm.  After this time, please contact us on +44 (0)1326 567247 before our office closes at 7.00pm.  Voicemails or emails received after this time will not be acknowledged until the following day.
Please ensure you inform accommodations your intention to use Luggage Transfers and your luggage does not weigh more than 20kgs.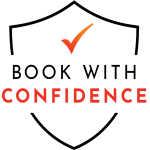 We offer full refunds for any transfers cancelled before 12pm on the day prior to the transfer taking place.
Hide
1. BOOK YOUR ACCOMMODATION
Once you've booked your accommodation, you're ready to book your transfers!  We provide transfers in Cornwall, Devon, Somerset, Dorset and Hampshire.
2. CHOOSE THE DATE & NUMBER OF BAGS
Using the 'select date' tab please choose the date you require the transfer. Then select the correct number of bags.
3. PICK UP/DROP OFF LOCATION
Please use the drop down tabs to choose the pick up and drop off locations. If the town or accommodation is not listed, if you require a meet transfer or your transfer is to/from multiple accommodations, please click the appropriate box and provide as much information as possible.
4. BOOK OR ENQUIRE
If our booking form has recognised all your journeys, you have the option to book and pay for them instantly. If any journey is not recognised, or you'd prefer not to book immediately, you can send it to us as an enquiry.