Cycling in the South West and Pannier Transfers
Hundreds of Cyclists use our Pannier and Baggage Transfers service on coastal and inland routes in the south west of England. We also have contacts who hire out bikes and can possibly deliver them to you depending on where you are staying.
Luggage and Pannier Transfer for Cyclists
We at Luggage Transfers Ltd don't just deliver for walkers, we also carry out pannier transfers for cyclists and any other kit you might have. We can also arrange for your bike to be transferred professionally and fully insured.
There are many cycle routes across the south west of England, some officially recognised and some not. Most of these would be thoroughly spoiled by carrying panniers and heavy bags which can destabilize your bike and increase the risk of accidents, punctures and also requires you to work even harder! These are not the best conditions to enjoy a relaxing cycle ride, so why not do the sensible thing....., get us to do your pannier transfers and any other kit you might have! We are very cheap - the cheapest out there - and very professional too. We also insure all the kit we transfer for you up to £250 per bag / item of luggage / pannier. whilst it is in the care of our driver. We do also advise you take out your own independent holiday insurance too.
So ..... give us a ring on 01326 567247 or 0800 043 7927 or send a Pannier Transfers Enquiry and let us lighten the load for you!
Bike hire
If you need to hire a bike(s), then don't worry, there are plenty of cycle hire companies in the south west and to find one it is simple to search Google. Alternatively use a cycle holiday arrangement company to do it all for you.
Book your Bikes from these guys and get it Delivered to your door or start point!
Cornwall:
1- Go By Cycle These guys provide a professional service across all of Cornwall and you won't go wrong with them!
2- Lands End Cycle Hire Situated just outside Marazion, they will hire bikes out for holidays or just for the day. Well worth contacting them!
Arranging your cycle Holiday Yourself
The first thing you should do is select the route you wish to ride. The easiest way to do that is to purchase a cycle route map or guide book.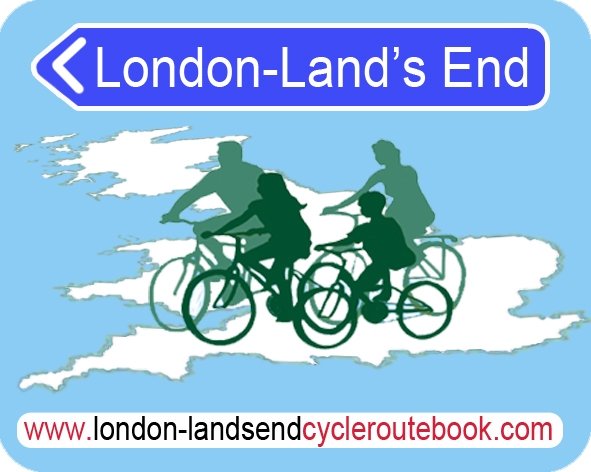 If you enjoy traffic calmed cycling and sightseeing from your bicycle the
London - Land's End Cycle Route Book
, available from our book shop,
may be the guide for you. This route takes you along much of the northern coast of the South West Coast Path and differs from other guides, providing you with a full pack of route descriptions, high profile mapping and insider visitor information.
Once you have decided on your cycle route, you can then decide on the distance you wish to ride each day, which will indicate the closest towns to book overnight accommodation in. We have a brilliant short break accommodation database for this purpose which features only accommodation that is happy to take short breaks and one or two night bookings. Just enter the name of the town/village and you will be pretty unlucky if we don't have some one night friendly options there for you.
Once you have confirmed with all your accommodations, then book your luggage/pannier transfers with us by completing this baggage transfers enquiry form, and that is it! Please note that because you can cycle many more miles than a walker can walk in a day, the cost of your transfers will be calculated slightly differently than the busy coastal routes.
Get someone else to arrange your Cycle Holiday for you
If you find arranging it yourself too much hassle - which it can be for all sorts of reasons - then why not contact EOS Cycling Holidays and let them do all the arranging for you. EOS Cycling Holidays offer a variety of cycling holidays to suit families and individuals as well as all depths of the pocket! Their routes cover much of the south west of England including their: Pearls of Cornwall mini break, Devon Coast to Coast Tour & the Devon & Somerset Explorer Tour.